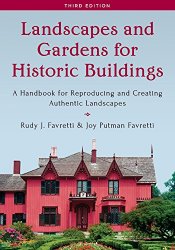 Название:
Landscapes and Gardens for Historic Buildings, 3rd Edition
Автор:
Rudy J. Favretti, Joy Putman Favretti
Издательство:
Rowman & Littlefield Publishers
Год:
2017
Формат:
EPUB
Размер:
41 Мб
Язык:
английский / English
It's been more than forty years since the second edition of this landmark guide to the preservation and restoration of gardens and landscapes at historic sites was published. Since the last edition came out, author Rudy Favretti, the nation's foremost authority in this area, has worked on many significant sites including both Monticello and Mount Vernon. New to this edition are: Personal case studies from the authors' extensive experience in landscape restoration-preservation. An in-depth look complete with color images of the archaeological excavations at Bacon's Castle and Monticello in Virginia. An enlarged and comprehensive bibliography. Fully updated and added chapters based on new and emerging information in the field. Further, Landscape and Gardens for Historic Buildings covers a wide array of topics including researching and planning, maintaining restored landscapes, identifying authentic flora, and selecting the right historical period, or a series of periods to show the evolution of the historic landscape.