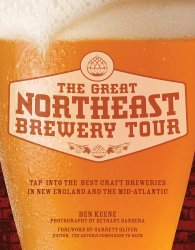 Название:
The Great Northeast Brewery Tour: Tap into the Best Craft Breweries in New England and the Mid-Atlantic
Автор:
Ben Keene, Garrett Oliver
Издательство:
Voyageur Press
Год:
2014
Формат:
EPUB
Размер:
31 Мб
Язык:
английский / English
As craft brewing becomes increasingly inventive, with new beers demonstrating remarkable complexity, one region of the United States is particularly notable for its fascinating brewing scene: the Northeast. New England and the Mid-Atlantic boast some of America's most interesting craft breweries—there, beer lovers can discover exceptional brews, lively taprooms, spectacular views, and many other qualities that make the Northeast a must-visit region for anyone interested in craft brewing. In The Great Northeast Brewery Tour, beer expert Ben Keene introduces readers to sixty of the most incredible breweries in Maine, New Hampshire, Vermont, Massachusetts, Connecticut, Rhode Island, New York, New Jersey, Pennsylvania, Maryland, Delaware, and Washington, D.C. Breweries like Allagash Brewing in Portland, Maine, and Smuttynose Brewing Company in Portsmouth, New Hampshire, allow visitors to tour the facilities, offering an inside look at how great beers are created.