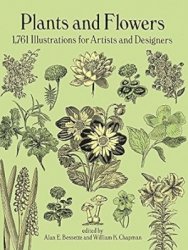 Название:
Plants and Flowers: 1761 Illustrations for Artists and Designers
Автор:
Alan E. Bessette, William K. Chapman
Издательство:
Dover Publications
Год:
1992
Формат:
PDF
Размер:
179 Мб
Язык:
английский / English
This comprehensive archive offers authentically detailed, copyright-free illustrations of hundreds of plants and flowers from around the world. Ideal for graphic artists, designers, and others in the arts and crafts, it will also serve both serious and casual botanists as a convenient reference and key to identification of a broad range of botanical species. Each illustration has been carefully selected from botanical archives for its scientific accuracy, artistic style, and suitability for reproduction. The plants and flowers are grouped by kind, uses, and habitats into seventeen categories, among them aquatic plants, carnivorous plants, grasses, rushes and sedges, orchids, ornamental plants, plants of commerce, mushrooms, molds and lichens, ferns, mosses, trees, shrubs, weeds, wildflowers, and vines. For easy and accurate reference, both common and botanical Latin names are given for each species whenever possible. All names have been compiled into two convenient indexes.