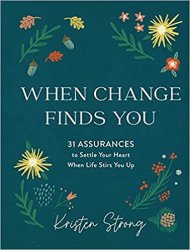 Название:
When Change Finds You: 31 Assurances to Settle Your Heart When Life Stirs You Up
Автор:
Kristen Strong
Издательство:
Revell
Год:
2021
Формат:
EPUB
Размер:
36 Мб
Язык:
английский / English
When difficult or unwanted change enters our lives, it can cause fear, anxiety, and anger to bubble up from within. We want to quiet that simmering stress, but how do we do that, especially when we know our circumstances aren't going to calm down any time soon? By regularly meeting with God and exchanging our worries and fears for his assurances that he is using our difficult change for us, not against us. Easier said than done? Not if you have Kristen Strong alongside you as your understanding guide. Offering thoughtful, humorous anecdotes and powerful prayers to recite, Strong invites you to think and feel differently about change on the inside so you can live and love differently on the outside. As the tender companion she is, Kristen will show you how not to get over difficult change but rather to get through it. She'll help you acknowledge your change, give your anxieties over to God, and abide well in the days to come—no matter what transitions life brings.