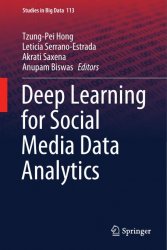 Название:
Deep Learning for Social Media Data Analytics
Автор:
Tzung-Pei Hong, Leticia Serrano-Estrada, Akrati Saxena, Anupam Biswas
Издательство:
Springer
Год:
2022
Формат:
True PDF
Страниц:
297
Размер:
10 Mb
Язык:
English
This edited book covers ongoing research in both theory and practical applications of using deep learning for social media data. Social networking platforms are overwhelmed by different contents, and their huge amounts of data have enormous potential to influence business, politics, security, planning and other social aspects. Recently, deep learning techniques have had many successful applications in the AI field.