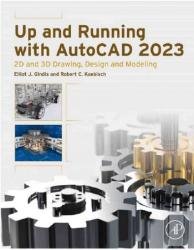 Название
: Up and Running with AutoCAD 2023: 2D and 3D Drawing, Design and Modeling
Автор
: Elliot J. Gindis, Robert C. Kaebisch
Издательство
: Academic Press/Elsevier
Год
: 2023
Страниц
: 818
Язык
: английский
Формат
: pdf (true)
Размер
: 118.6 MB
Up and Running with AutoCAD 2023: 2D and 3D Drawing, Design and Modeling presents a combination of step-by-step instruction, examples and insightful explanations. The book emphasizes core concepts and practical applications of AutoCAD in engineering, architecture and design. Equally useful in instructor-led classroom training, self-study, or as a professional reference, the book is written by a long-time AutoCAD professor and instructor with the user in mind.
What is Autocad?
AutoCAD is a drafting and design software package developed and marketed by Autodesk, Inc. AutoCAD has been around for over 40 years- several lifetimes in the software industry. It has grown from modest beginnings to an industry standard, often imitated, sometimes exceeded, but never equaled. The basic premise of its design is simple and is the main reason for AutoCAD's success. Anything you can think of, you can draw quickly and easily. For many years, AutoCAD remained a superb 2D electronic drafting board, replacing the pencil and paper for an entire generation of technical professionals. In recent releases, its 3D capabilities finally matured as well.
The software has a rather steep learning curve to become an expert but a surprisingly easy one to just get started. Most important, it is well worth learning. This is truly global software that has been adopted by millions of architects, designers, and engineers worldwide. Over the years, Autodesk expanded this reach by introducing add-on packages that customize AutoCAD for industry-specific tasks, such as electrical, civil, and mechanical engineering. However, underneath all these add-ons is still plain AutoCAD. This software remains hugely popular. Learn it well, as it is still one of the best skills you can add to your resume.
About this book
This book is not like most on the market. While many authors certainly view their text as unique and novel in its approach, we rarely reviewed one that was clear to a beginner student and distilled AutoCAD concepts down to basic, easy to understand explanations. The problem may be that many of the available books are written by either industry technical experts or teachers but rarely by someone who is actively both. One really needs to interact with the industry and the students, in equal measure, to bridge the gap between reality and the classroom. After years of AutoCAD design work in the daytime and teaching nights and weekends, we set out to create a set of classroom notes that outlined, in an easy to understand manner, exactly how AutoCAD is used and applied, not theoretical musings or clinical descriptions of the commands. These notes eventually were expanded into this book that you now hold. The rationale was simple: An employer needs this person to be up and running as soon as possible to do a job. How do we
make this happen?
Strips away complexities and reduces AutoCAD to easy-to-understand, basic concepts
Teaches the essentials of operating AutoCAD that build student confidence
Documents commands with step-by-step explanations, including what the student needs to type in and how AutoCAD responds
Combines 2D and 3D content in one affordable volume
Скачать Up and Running with AutoCAD 2023: 2D and 3D Drawing, Design and Modeling

Нашел ошибку? Есть жалоба? Жми!
Пожаловаться администрации