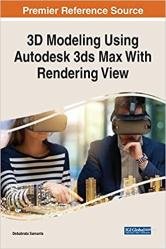 Название
: 3d Modeling Using Autodesk 3ds Max With Rendering View
Автор
: Debabrata Samanta
Издательство
: IGI Global
Год
: 2022
Страниц
: 320
Язык
: английский
Формат
: epub (true)
Размер
: 80.8 MB
This book guides you through the difficulty of mastering one of the most sophisticated computer programs ever created by concentrating on the aspects of the program that you need to know in order to create outstanding architectural visualisations.
Welcome to the world of 3D architecture visualizations using 3ds Max, the world's most powerful and adaptable 3D software suite. In just the last few years, the visualization industry has arguably become the fastest-growing 3D industry and may soon overtake all others in total number of users. Just as the use of computer-aided design became the norm for nearly all architectural, engineering, and construction firms in the 1990s, 3D visualizations have become standard practice today. Autodesk 3ds Max is a powerful and versatile 3D software package that requires a thorough understanding in order to use it effectively. 3D Modeling Using Autodesk 3ds Max With Rendering View considers the challenges of learning 3ds Max, focuses on the critical aspects of the program needed to produce stunning architectural visualizations, and discusses some of the fastest and most efficient ways to accomplish tasks. Covering a range of topics such as camera rendering and standard light effects, this reference work is ideal for researchers, academicians, scholars, practitioners, industry professionals, instructors, and students.
Although 3ds Max is a vast and complex program, understanding just the aspects that pertain to visualizations will teach you everything you need to know to advance in the profession in the least amount of time.
Chapter 1 focuses 3Ds Max is a graphics tool that allows you to create 3D models, animations, games, and photographs. Autodesk Media and Entertainment produced it. It offers 3D modeling capabilities and a plug-in architecture that is adaptable. Video game creators and TV commercial studios are the most common users. It can also give animated movie effects. It comes with several tools and modifications that may transform a single conventional object into a variety of realistic models. It aids in creating natural textures for models and the proper mapping of such surfaces to the objects. It aids in creating appropriate light and shadow effects for the models. It has a variety of rendering options that allow the models to be generated in various ways. It contains new icons, a user interface that can be customized, and a scripting language. The most important users of 3ds Max are gaming asset artists and architectural designers. 3ds Max contains everything you need for excellent animation and rigging. As a result, animators working on big-budget films or even tiny commercial pieces that require 3D motion frequently employ it. Artists may animate figures utilizing skeletons, kinematics, and bone restrictions in a simple method that anyone can pick up with experience.
Chapter 2 deep dives plan to modernize everything in our modern world and get everything at the tip of our fingers as the world evolves. As the world becomes, cafes of all sorts, shops, apartments, colleges, and many other things have been transformed with technology based on human innovation. As we progress through this paper, we come across a cafeteria that has been rendered in a new version using Autodesk 3D Max.
Chapter 3 intends this technique for creating a 3D model includes setting up the sources, working with editable poly, information from the inside of the kitchen design, and adding turbo-smooth and symmetry modifiers. The technique materials are introduced to the model is established in addition to lighting the scene and setting up the renderer. Rendering methods and procedures are also defined. Several images were combined to create the final depiction. Our study aims to develop a design that incorporates materials to improve models. Cylinder, sphere, box, plane, and spline were the shapes employed. Editable poly, Editable spline, and UVW map are some of the modifiers available. Finally, we improved the model using a Material editor and target lighting...
Скачать 3d Modeling Using Autodesk 3ds Max With Rendering View

Нашел ошибку? Есть жалоба? Жми!
Пожаловаться администрации