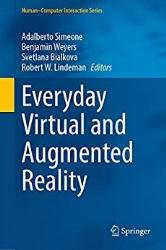 Название
: Everyday Virtual and Augmented Reality
Автор
: Adalberto Simeone, Benjamin Weyers, Svetlana Bialkova
Издательство
: Springer
Серия
: Human–Computer Interaction Series
Год
: 2023
Страниц
: 257
Язык
: английский
Формат
: pdf (true)
Размер
: 21.3 MB
This book introduces readers to the area of "Everyday Virtual and Augmented Reality". With Virtual and Augmented Reality technologies, becoming more pervasive in our homes and workplaces, new use cases and scenarios emerge together with new challenges that need to be addressed. These challenges encompass the design and implementation of appropriate VR/AR applications for ordinary environments that were not built with the explicit intention of supporting VR systems. The everyday/domestic environments present a range of issues that are usually not present in the physical locations purposed for VR and AR use in academic or professional environments, such as constrained spaces, presence of obstacles, absence of instrumentation, social and organizational restrictions etc.
To address the above challenges, we collect the latest work from the Virtual Reality and Augmented Reality research community, by combining the presentation of general definitions and characterization of the field, of interaction concepts and techniques, of a variety of use cases and areas. The constellation of different environment examples (from education, sport to consumer and marketing), from across the globe and platforms, provide a comprehensive discussion on scientific and engineering methods, which enable the development of VR/AR systems in everyday context.
"Everyday virtual reality" refers to those contexts where virtual reality (VR) or augmented reality (AR) could be used outside of research laboratories or highly specialized professional environments. The interest in VR/AR technologies and applications has increased in the last decade with the availability of consumer-level hard- and software. This increase in relevance has made virtual and augmented reality technology also interesting for everyday scenarios and applications, thus for environments that are far from well-controlled and equipped laboratory setups as often used in research. Therefore, there is a growing need to understand the user's demands, marketing needs, and tech pitfalls in such contexts, in order to create appropriate everyday applications that successfully manage challenges such as heterogeneous user groups, complex and non-standardized physical environments and processes, as well as the use of simple and easy-to-use hardware setups.
Although affordable, consumer-level devices are enabling deployment of VR/AR applications in everyday environments such as homes, classrooms, and businesses, there are some challenges, such as low-quality tracking or restricted rendering and projection capabilities. Therefore, the areas of interest of this book focus on the challenges of designing and implementing VR/AR applications for ordinary environments that were not built with the explicit intention of supporting VR systems. These environments are often social environments in which users might be present without access to immersive technologies (cross-reality interaction). It might not be trivial or practical to install the technology required to obtain reliable and robust tracking capabilities, obstacles might be commonplace, and/or space might be restricted. In addition, users might not have access to the full range of 3D input devices that are found in VR/AR laboratories or might start to introduce immersive technologies into existing working processes, which can produce difficulties in coping with and adopting them.
Contents:
Introduction to Everyday Virtual and Augmented Reality
Extended Reality for Knowledge Work in Everyday Environments
The Use of Augmented Reality for Temporal Coordination in Everyday Work Context
Rotational and Positional Jitter in Virtual Reality Interaction in Everyday VR
Development and Validation of a Mixed Reality Exergaming Platform for Fitness Training of Older Adults
Networked Virtual Reality and Enhanced Sensing for Remote Classes and Presentations
Enhancing Multisensory Experience and Brand Value: Key Determinants for Extended, Augmented, and Virtual Reality Marketing Applications
Using Think-Aloud Protocol in Immersive VR Evaluations
Adaptive Virtual Neuroarchitecture
Скачать Everyday Virtual and Augmented Reality

Нашел ошибку? Есть жалоба? Жми!
Пожаловаться администрации