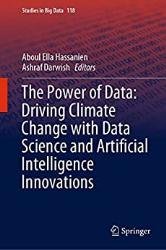 Название
: The Power of dаta: Driving Climate Change with Data Science and Artificial Intelligence Innovations
Автор
: Aboul Ella Hassanien, Ashraf Darwish
Издательство
: Springer
Серия
: Studies in Big Data
Год
: 2023
Страниц
: 255
Язык
: английский
Формат
: pdf (true), epub
Размер
: 27.2 MB
This book discusses the advances of Artificial Intelligence (AI) and Data Sciences in climate change and provides the power of the climate data that is used as inputs to Artificial Intelligence systems. It is a good resource for researchers and professionals who work in the field of Data Sciences, Artificial Intelligence, and climate change applications.
Data science and emerging digital and innovative technologies such as Artificial Intelligence, the Internet of things, digital twins, blockchain, drones, cloud computing, and sensor networks have drawn significant attention in the last years to tackle climate change challenges and reduce greenhouse gases and their impact. The impact and deploying these technologies on human life have witnessed a great interest in some areas related to climate change adaptation and mitigation, such as renewable energies, ocean dynamics, environmental quality control, biodiversity, agriculture, water sustainability, and energy sustainability.
The contents of this book are divided into four parts:
Part "Artificial Intelligence in Climate Change Applications" is devoted to the applications of artificial intelligence for floods crises prediction based on Machine Learning techniques, the impact of climate change on air flight emissions for green aviation, the prediction of water quality index using Machine Learning techniques, the impact of Artificial Intelligence on waste management for climate change, and finally, a Machine Learning-based model for predicting temperature under the effects of climate change.
Part "Emerging Technologies in Industry and Energy Sector" concerns are emerging technologies' role in the climate change industry and energy sector. It includes the prediction of emissions of cars based on Artificial Intelligence techniques, a decision support framework for photovoltaic renewable energy prediction, a clean energy management system based on the Internet of things and sensor networks, digital twins for the energy management sector, using a case study based on Internet of things to design ozone prediction model for mitigating the effect of climate change, and finally suing emerging technologies for sustainable zero energy in buildings using multistage optimization.
Part "Emerging Climate Change Technology in Agriculture Sector" is devoted to presenting the applications of emerging technologies in the agriculture industry. It concludes the crop prediction with climate factors and soil properties based on an intelligent recommendation mode, an intelligent recommendation model for strategic crops using Deep Learning, a data-driven decision support system for an innovative water system for climate change problems, and finally, the role of Artificial Intelligence in water management systems for irrigation in agriculture.
Part "Emerging Climate Change Technologies in Healthcare Sector" presents the application of emerging technologies in the healthcare sector to tackle climate change problems.
Скачать The Power of dаta: Driving Climate Change with Data Science and Artificial Intelligence Innovations

Нашел ошибку? Есть жалоба? Жми!
Пожаловаться администрации