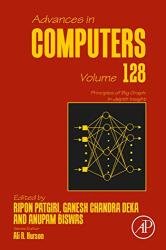 Название
: Principles of Big Graph: In-depth Insight
Автор
: Ripon Patgiri, Ganesh Chandra Deka, Anupam Biswas
Издательство
: Academic Press/Elsevier
Год
: 2023
Страниц
: 460
Язык
: английский
Формат
: pdf (true), epub
Размер
: 43.6 MB
Fast exact triangle counting in large graphs using SIMD acceleration, A comprehensive investigation on attack graphs, Qubit representation of a binary tree and its operations in quantum computation, Modified ML-KNN: Role of similarity measures and nearest neighbor configuration in multi label text classification on big social network graph data, Big graph based online learning through social networks, Community detection in large-scale real-world networks, Power rank: An interactive web page ranking algorithm, GA based energy efficient modelling of a wireless sensor network, The major challenges of big graph and their solutions: A review, and An investigation on socio-cyber crime graph.
Big Graph is an emerging research field that is gaining enormous popularity among academicians, industrialists, and practitioners. The Big Graph is applied in research areas such as bioinformatics, social systems administration, computer networking, complex networks, and data streaming. Big Graph technology is also used for biological networks, scholar article citation networks, protein–protein interaction, and semantic networks.
Big Graph consists of millions of nodes and trillion of edges growing exponentially; hence, Big Graph needs large computing machinery for processing, which is a grand challenge. The Conventional Graph databases and analytics cannot address the versatility of graph information because processing large-scale graph data becomes expensive in terms of computation. Enormous graphs, namely, the WWW, information data sets of web indexes, road maps, atoms, high-energy physics, and science, are growing exponentially these days. Since a graph-structured portrayal in real life is normal, viable and novel strategies are needed to take care of the baffling inexplicable issues inside the diagram. Numerous customary AI approaches have been proposed on top of extricated highlights utilizing different predefined measures from the first information structure. The extricated elements could be pixel insights in picture information or word event measurements in regular language information. Recently, deep learning procedures have acquired huge ubiquity, handling the learning issues effectively, taking in portrayal from crude information, and anticipating utilizing the learned portrayal all the while.
In the current scenario, there are several tools of Big Graph available in the marketplace. However, there are fewer books available in the current marketplace, which emphasize analytics. In addition, the available books are unable to provide rich insight into analytics, visualization, and databases. Hence, this edited book is being planned to bring forth the information regarding Big Graph so that the database and machine learning professionals and academia across the world are supplied with the relevant information. This book comprising 17 chapters presents the state-of-the-art surveys and solutions for various unsolved problems.
Скачать Principles of Big Graph: In-depth Insight

Нашел ошибку? Есть жалоба? Жми!
Пожаловаться администрации