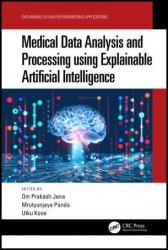 Название
: Medical Data Analysis and Processing using Explainable Artificial Intelligence
Автор
: Om Prakash Jena, Mrutyunjaya Panda, Utku Kose
Издательство
: CRC Press
Серия
: Explainable AI (XAI) for Engineering Applications
Год
: 2024
Страниц
: 269
Язык
: английский
Формат
: pdf (true)
Размер
: 32.2 MB
The text presents concepts of Explainable Artificial Intelligence (XAI) in solving real world biomedical and healthcare problems. It will serve as an ideal reference text for graduate students and academic researchers in diverse fields of engineering including electrical, electronics and communication, computer, and biomedical.
Presents Explainable Artificial Intelligence (XAI) based machine analytics and deep learning in medical science.
Discusses Explainable Artificial Intelligence (XA)I with the Internet of Medical Things (IoMT) for healthcare applications.
Covers algorithms, tools, and frameworks for explainable artificial intelligence on medical data.
Explores the concepts of natural language processing and Explainable Artificial Intelligence (XAI) on medical data processing.
Discusses machine learning and deep learning scalability models in healthcare systems.
Artificial Intelligence (AI) is the technology that provides this automated job by modeling the decision-making process using suitable techniques. AI is an emerging and impactful technology domain that is designed to solve problems and help humans by enabling human-intelligence-emulated machines to execute automated jobs. The usage of AI in the research and IT industry comes with incentives as the AI generates the opportunity for decreased production cost while lessening the risk factors, quality decision-making process, enhancing productivity quantity, and even production of new services and products. AI is heavily built-up on Machine Learning (ML) techniques and algorithms as well as ML-specific domains, especially deep learning (DL). However, the non-ML techniques such as logical reasoning, behavior-based methods, statistical derivations, and searching methods are also provided enough support in the development of the AI domain. ML is a broad technology domain and is considered the forthcoming algorithmic and automated solution generator for fields such as recommender systems for users of a commodity, diagnosis of diseases by implicit data-driven model, self-governing transportation model provider, etc. The DL techniques have enabled ML further by efficient support in fields where ML algorithms without DL perform poorly such as image recognition and speech processing. ML and DL, being subset of broad AI techniques, enable AI in achieving success in efficiently dealing with real-world high-dimensional datasets in a nonlinear space and a hierarchically nested style to settle down between probabilistic decision sets.
This text focuses on data driven analysis and processing of advanced methods and techniques with the help of Explainable Artificial Intelligence (XAI) algorithms. It covers machine learning, Internet of Things (IoT), and deep learning algorithms based on XAI techniques for medical data analysis and processing. The text will present different dimensions of XAI based computational intelligence applications. It will serve as an ideal reference text for graduate students and academic researchers in the fields of electrical engineering, electronics and communication engineering, computer engineering, and biomedical engineering.
Скачать Medical Data Analysis and Processing using Explainable Artificial Intelligence

Нашел ошибку? Есть жалоба? Жми!
Пожаловаться администрации