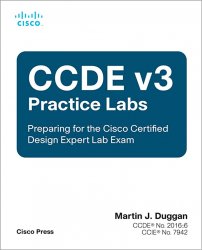 Название:
CCDE v3 Practice Labs: Preparing for the Cisco Certified Design Expert Lab Exam
Автор:
Martin James Duggan
Издательство:
Cisco Press
Год:
2022
Формат:
EPUB
Размер:
10 Мб
Язык:
английский / English
CCDE demonstrates your expert-level ability to design networks correctly from the outset, so they're easier to manage and scale for years to come. The CCDE v3 update makes this credential more valuable than ever, but high-quality, cost-effective lab training has been extremely scarce. CCDE v3 Practice Labs fills that gap, coaching you through essential preparation for the scenario-based Cisco CCDE Practical Exam v3. Martin James Duggan draws on 20+ years of experience designing global Cisco networks, mentoring colleagues at world-class networking organizations, and personally contributing to Cisco's CCDE exam updates. His three highly realistic scenario-based labs are carefully designed to match the real exam's complexity and format and are supported with detailed debriefs explaining why the correct answers are right and the "distractors" are wrong.