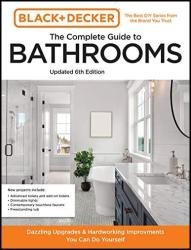 Название
: Black and Decker The Complete Guide to Bathrooms, 6th Edition: Beautiful Upgrades and Hardworking Improvements You Can Do
Автор
: The Editors of Cool Springs Press, Chris Peterson
Издательство
: Cool Springs Press
Год
: 2023
Страниц
: 256
Язык
: английский
Формат
: epub (true)
Размер
: 46.7 MB
BLACK+DECKER Complete Guide to Bathrooms brings you design advice, how-to instructions, and all the facts you need to achieve the bathroom of your dreams.
This sixth edition of the perennial bestseller from the BLACK+DECKER Complete Guide series covers all the bases when it comes to bathroom remodeling. From freshening up decor to a down-to-the-studs remodel , all of the information you need to design the job and do the work yourself is right here. This new edition also features smart home projects, from advanced toilets and add-on bidets to freestanding tubs, dimmable lights, and touchless faucets.
Through step-by-step photography and instructions , you'll see how to update lighting , ventilation , flooring , surfaces , cabinetry , toilets , bathtubs , and accessories . This comprehensive buyer's guide takes you through one of the most important steps in any remodeling project, and a complete and up-to-the minute section on bathroom design provides education and inspiration.
It also includes information explaining how to remodel or re-imagine your bathroom to better meet the needs of aging in place, with projects that conform to Universal Design Standards:
You'll see a start-to-finish demonstration on how to replace a shower or tub with a curbless shower stall.
To maximize access, a wall-mounted sink is hung and hooked up—and you see every step.
Replace a traditional bathroom sink faucet with a hands-free model so you can turn on the water even if you can't reach all the way to the faucet handle.
Add a frameless glass shower surround and learn how to install and plumb a vanity cabinet and sink basin.
The list of projects is long and the information, vetted by the experts at BLACK+DECKER, is complete and current.
The luxury is key. Even homeowners with only a modest bathroom space to transform, expect a certain level of luxury. And they don't have to look further than their local home center to find it. Multiple showerheads—once exclusive to high-end hotels and million-dollar homes—are now within easy reach (literally and figuratively) of just about every homeowner. The jetted tubs that once required excessive floor space can now be found in modest alcove models that will bring an opulent, rejuvenating experience to even the most cramped bathroom.
Trends come and go. Plants and black fixtures? Appealing, but perhaps not here for the long haul. Glass tiles, curbless showers, and sleek tankless toilet designs? They will likely endure. In any case, start with your comfort and the special features that mean the most to you, whether that's a his-and-her double-bowl vanity or a slide bar, dual-head shower fixture. Then choose the finish, color, or style that complements the overall look you're after. Given the vast wealth of choices, there's just no reason not to have the bathroom of your dreams.
Скачать Black and Decker The Complete Guide to Bathrooms, 6th Edition: Beautiful Upgrades and Hardworking Improvements You Can Do

Нашел ошибку? Есть жалоба? Жми!
Пожаловаться администрации