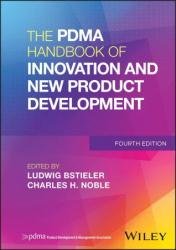 Название
: The PDMA Handbook of Innovation and New Product Development, 4th Edition
Автор
: Ludwig Bstieler, Charles H. Noble
Издательство
: Wiley
Год
: 2023
Страниц
: 690
Язык
: английский
Формат
: pdf (true), epub
Размер
: 42.2 MB
State-of-the-art overview of all aspects of new product development from start to finish.
The Product Development and Management Association (PDMA) Handbook of New Product Development provides an exceptional review of cutting-edge topics for both new and experienced product development leaders, offering a comprehensive and updated guide to the practices, processes, and tools critical to achieving and sustaining new product/service development success in today's world and delivering valuable information on the fundamentals as well as emerging practices.
This edition is completely revised to include 12 new chapters on topics including: Creating
Innovation, Sustainable New Product Development (NPD), NPD Teams and Leadership, Digital Transformation of NPD, Market Analytics, and much more.
In The Product Development and Management Association (PDMA) Handbook of New Product Development, readers can expect to find specific information on:
What separates the winners from the losers when it comes to new products, plus what drives new product success from a holistic standpoint Effective frontend innovation practices, portfolio management for product innovation, and identifying significant new business opportunities via the Magellan Process Obtaining customer needs for product development, harnessing user research for product innovation, and making market analytics work for you Lessons learned from outstanding corporate innovators and differences between goods and services development.
Section 1 of this handbook includes chapters that are both strategic and foundational. Beginning with Bob Cooper, who many know as the father of the stage gate concept, he brings fresh ideas that also lay the groundwork for what is to come. The chapters in the first section cover big issues and important concepts that any product manager needs to consider. Section 2 examines the new product development process and essential tools and concepts such as perspectives on portfolio management, managing the front end of innovation, gaining insights from consumers, and other important issues. Section 3 considers topics that have exploded since the last edition of this Handbook, focused on user participation and value creation in the new product development process. We're excited to introduce work on open innovation, co-creation, crowdfunding, and related ideas. In Section 4 we cover what we call transformative forces in new product development and innovation. This section includes topics related to digital transformations, artificial intelligence, and design thinking, all of which are already shaping new product development and innovation in different ways. Section 5 is also a new offering in this edition of the Handbook with a clear focus on service innovation concepts, an area that any practicing manager knows has grown increasingly critical in recent years. Finally, Section 6 on applications in new product development includes key considerations, tools and techniques to help managers excel in the practice of NPD and innovation.
Artificial Intelligence (AI) and Machine Learning (ML) are perhaps the technologies with the most impact on industries and societies. New methods of invention that can reshape the nature of the innovation process are relatively rare, and AI could be one of these rare cases. AI is not just revolutionizing soft fabrics, but also the hard sciences. But the complexity that has slowed progress is where AI (and especially deep-learning algorithms) excels: Searching through a multidimensional space to come up with valuable predictions is one of AI's core competences. AI-augmented discovery of new materials is potentially much faster and cheaper by orders of magnitude. In an experiment published in Nature, Tshitoyan et al. demonstrate this performance. They first trained a language processing algorithm to screen large sets of research publications to identify open opportunities for new compounds with specific desired characteristics in thermoelectric compositions, an important field in material sciences. From the literature, the algorithm extracted technical terms and concepts from thermoelectrics, but also learned to correctly interpret general concepts such as the periodic table, crystal and band structures, and other material properties and to place them in context. Another set of algorithms, so called Generative Adversarial Network (GAN), then used this input to suggest ("invent") promising new material compositions.
The 4th edition of The Product Development and Management Association (PDMA) Handbook of New Product Development is an essential reference for anyone with responsibility for product development activities, from novices looking for fundamentals to experts seeking insights on emerging concepts, and is relevant for all functions and all industries.
Скачать The PDMA Handbook of Innovation and New Product Development, 4th Edition

Нашел ошибку? Есть жалоба? Жми!
Пожаловаться администрации