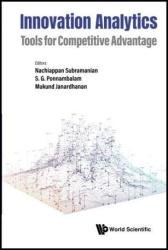 Название
: Innovation Analytics: Tools For Competitive Advantage
Автор
: Nachiappan Subramanian, S.G. Ponnambalam
Издательство
: World Scientific Publishing
Год
: 2023
Страниц
: 324
Язык
: английский
Формат
: pdf (true)
Размер
: 20.2 MB
Innovation Analytics (IA) is an emerging paradigm that integrates information/knowledge, analytics, Digital Twins and Artificial Intelligence (AI) to support and manage the entire lifecycle of a product and process from inception, through engineering design and manufacture, to service and disposal of manufactured products. Innovation analytics is set to become an integral part of the innovation lifecycle to help make smart, agile decisions and accelerate business growth. Innovation Analytics: Tools for Competitive Advantage provides a comprehensive overview of the challenges and opportunities behind the latest research surrounding technological advances driving innovation analytics; the transition of analytical ideas to interdisciplinary teams; the development of deep synchronicity of skills and production innovation; and the use of innovation analytics in multiple stages of product and process evolution. In exploring the impact of emerging developments in the current climate, researchers and academics will be able to gain insight into real-world usage of analytics for innovation and its contribution toward society. As such, students, scientists, engineers, academics, and management professionals alike will find this title beneficial.
The first 4 chapters out of the 11 accepted discuss the application of emerging analytics for product and process innovation. The authors in Chapter 2 have explored consumer product innovation and opportunities for data analytics. The focus of this chapter is to explain the possibilities for the use of AI-enabled tools and processes that can synthesize and mine social media data for innovation.
In terms of Artificial Intelligence, Chapter 6 discusses the linkage between technological advancements and ubiquity. In particular, it seeks the potential application of Artificial Intelligence, non-routing algorithms, and visualization for innovation process.
The role of Machine Learning and machine reasoning for intelligent transport systems is discussed in Chapter 9. Using case studies and surveys, the authors demonstrate the use of data generated through latest technologies such as video imaging and thermal imaging for better traffic management.
Chapters 10–12 discuss the developments in data and they include the role of Big Data, evolution of time series data, fuzzy data, and textual data. A brief summary of each study is given as follows.
Chapter 10 explores the innovative solutions to reduce multiple corrections in the forecasting support systems. Specifically, the study discusses the process innovation in forecasting and inventory management. Through a survey, the study identifies the 11 most common drivers that necessitate the frequent adjustments made in the forecasting time series data and the use of exponential smoothing methods used in multiple industries.
Chapter 11 proposes a newer method to deal with fuzzy data in the selection of alternate designs in an open innovation process. The chapter reviews the use of multi-criteria decision-making for evaluating the appropriate design for mobile robot chassis, considering criteria such as novelty, manufacturing cost, assembly time, design complexity, and manufacturing feasibility.
Chapter 12 analyzes the forecasting method for innovative products.
Скачать Innovation Analytics: Tools For Competitive Advantage

Нашел ошибку? Есть жалоба? Жми!
Пожаловаться администрации