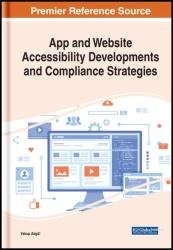 Название
: App and Website Accessibility Developments and Compliance Strategies
Автор
: Yakup Akgul
Издательство
: IGI Global
Год
: 2022
Страниц
: 337
Язык
: английский
Формат
: pdf (true), epub
Размер
: 20.3 MB
In the present digital world, the growing number of internet users has made web quality an important factor for accessing online services and increasing the customer base of an organization. The advances in information technology and the internet have opened new dimensions in many different industries. Currently, accessibility research is an active area of research. Specifically, access for everyone regardless of disability has become an essential aspect of web development. As webpages will be used by both nondisabled and disabled individuals, web pages must be designed with a technical criterion that fits universal needs. The ambition to make websites barrier-free is not limited to standards and laws but has been on the agendas of all governments and public agencies recently, and this universality of websites is a fundamental area of research. App and Website Accessibility Developments and Compliance Strategies intends to provide theoretical and practical contributions for the accessibility of websites for both disabled and nondisabled individuals. This book discusses how web quality parameters like usability and accessibility are being evaluated for their universal design and accessibility by different types of disabled individuals. The chapters cover the current methodologies for evaluation, accessible design criteria, inclusive practices in web and app development, and policies and interventions across different types of websites.
The recent developments such as Artificial Intelligence (AI), cloud computing, and new applications of Virtual Reality (VR) to build simulated learning environments are predicted to have dramatic effects upon learning environments at all levels. In higher education industry, educational institutions are designing or develop new programs to take advantage of these emerging technologies. At the same time, educational institutions are trying to market their programs to new or existing audiences in new ways. Corporations also have formed new alliances with universities to promote technology for education. Totally new models for educational institutions are also being developed to respond to the opportunities created by a worldwide market for education and new technologies.
Shortly, after the commercialization of the web, the multimedia component of the web which is called the world wide web (WWW), experienced a phenomenal growth. Businesses, higher education institutions and individuals raced to place websites and content on the web as part of this growth. Like all other higher education institutions, universities are required to present and market their services on the internet. So, the web has become a crucial tool in communicating with the various constituencies of an institution such as prospective and current students, parents, academicians, employees and competitor universities. Because of these endless opportunities, the number of websites has continued to increase as well as the importance of website usability. Taking usability and accessibility into account when designing an app is a key strategy for an app's success in the market. However, in recent years a new complementary concept has emerged that focuses on the users' perspective. User Experience (UX) seeks to gain a deep understanding of users and how they interact with a digital product.
This book is ideally intended for web developers, designers, software engineers, IT specialists, social organizations, governments, practitioners, researchers, academicians, and students in the usability and accessibility of websites for disabled individuals.
Скачать App and Website Accessibility Developments and Compliance Strategies

Нашел ошибку? Есть жалоба? Жми!
Пожаловаться администрации