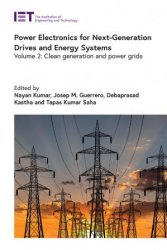 Название:
Power Electronics for Next-Generation Drives and Energy Systems. Volume 2: Clean generation and power grids
Автор:
Nayan Kumar, Josep M. Guerrero, Debaprasad Kastha
Издательство:
IET
Год:
2023
Формат:
PDF
Страниц:
254
Размер:
52,5 МБ
Язык:
Английский
Power electronics converters are devices that change parameters of electric power, such as voltage and frequency, as well as between AC and DC. They are essential parts of both advanced drives, for machines and vehicles, and energy systems to meet required flexibility and efficiency criteria. In energy systems both stationary and mobile, control and converters help ensure reliability and quality of electric power supplies.