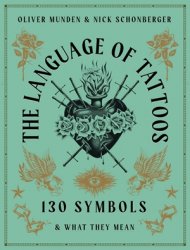 Название:
The Language of Tattoos: 130 Symbols and What They Mean
Автор:
Oliver Munden, Nick Schonberger
Издательство:
Frances Lincoln
Год:
2022
Формат:
EPUB
Размер:
23 Мб
Язык:
английский / English
This beautifully illustrated guide delves deep into the meaning and significance of different tattoo symbols, exploring the rich cultural history around the world of this widespread form of body art. Tattoos are everywhere: one in three of us has at least one. Body art is one of the most popular ways of expressing our identity and beliefs. But whether we're aware of it or not when we choose a design to be permanently inked on our skin, a complex language of meanings lies behind the visuals we choose. A lotus flower, koi carp swimming upstream or a dragon rising towards the sun: in the language of tattoos these are all symbols of strength and overcoming adversity.