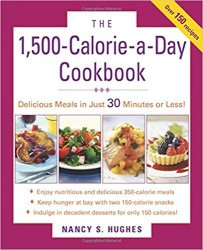 Название:
The 1500-Calorie-a-Day Cookbook
Автор:
Nancy S. Hughes
Издательство:
McGraw-Hill Education
Год:
2008
Формат:
PDF
Страниц:
208
Размер:
98,9 Mb
Язык:
English
Eat up. Slim down. It's just that easy--with just 1,500 delicious calories a day!
From the author of The 1,200-Calorie-a-Day Menu Cookbook, comes all new recipes for when you are counting calories but don't want to sacrifice flavor, taste, or variety. While most low-calorie meal plans leave you hungry for more, this cookbook serves up a satisfying selection of energy-boosting breakfasts, fast-fix lunches, and delectable dinners--plus two healthy snacks and one guilt-free dessert--every single day! It's hard to believe it's just 1,500 calories.